Rosebank is Australia's favourite helmet brand and home of the iconic "Stackhat. Proud of its history, the Rosebank brand continues to innovate offering Australians unique and diverse helmets with mass appeal year on year.
Bicycle users can venture to their local BIG W or Toymate store and purchase a helmet they know has met the highest of safety concerns.
For it was the Rosebank Stackhat that led to the adoption of the Australian bicycle helmet standard AS/NZS 2063 which is most stringent standard in the world. This standard has long been followed by Australian distributors and manufacturers of bicycle helmets and its impact has led to a significant reduction in cycling head injuries and deaths. Rosebank has continued to win numerous helmet design awards and participates in various community initiatives that promote a safer cycling environment for all bike riders. .
Some of these organisations have included:
Amy Gillett Foundation,
Various Police & Authorities,
Kidsafe
Aboriginal community initiatives.
as well as number of other small community projects across Australia to help educate and reduce serious cycling injuries.
Rosebank helmets continue to protect riders of all levels: from kids venturing out for the first time, through to mums and dads riding each weekend across Australia. From its humble beginnings, to the iconic Stackhat, to the new innovative Sprint helmet, Rosebank continues to be Australia's most popular helmet brand.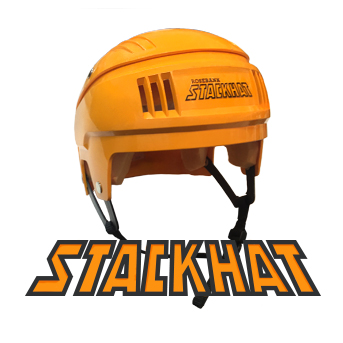 Mention the 80's and the memories start flooding in of breakdancing, ghetto blasters, Chicko Rolls, Scrunchies, denim on denim and much much more. The 80s also signifies one of our golden moments in Rosebank history with the creation of the iconic Stackhat helmet. The sturdy bright orange Stackhat was defining and life changing for many with the sound cry 'Don't forget your Stackhat' being yelled from many a household as kids found their freedom through cycling.
It wasn't long after batch one rolled off the production line in 1982 that bike and department stores across the country were a flurry of bright orange durable helmets. Everyone kid wanted one! With sales of over 1 million units, the Stackhat could take all the abuse a kid could possibly dish out! Made of a thick ABS shell, lined with dense polystyrene and a cloth liner, these helmets were unique, robust and packed a punch.
Unfortunately, the Stackhat has been retired but the brand continues to go from strength to strength featuring a more modern, sleek, designed helmet range. The Rosebank Stackhat will always be synonymous with Australian cycling fun, safety and a time when everything was good in the world.
Take a trip down memory lane ….
Unfortunately, the Stackhat is no longer available.
If you are looking to purchase one for nostalgia, you might be able to find one at your local trash and treasure market or someone selling through E-bay.